A few downtown Chelsea shop owners have jokingly dubbed the East side of Main Street, "Designer's Row." Kitty & Company Interior Design LLC  is one of those newer locations just inside the historic Sylvan Building at 114 N. Main Street, having been there for a little over a year.  Once you step inside, the mix of old brick walls, our new showroom, and fresh interior paint schemes create an upscale look for this landmark interior.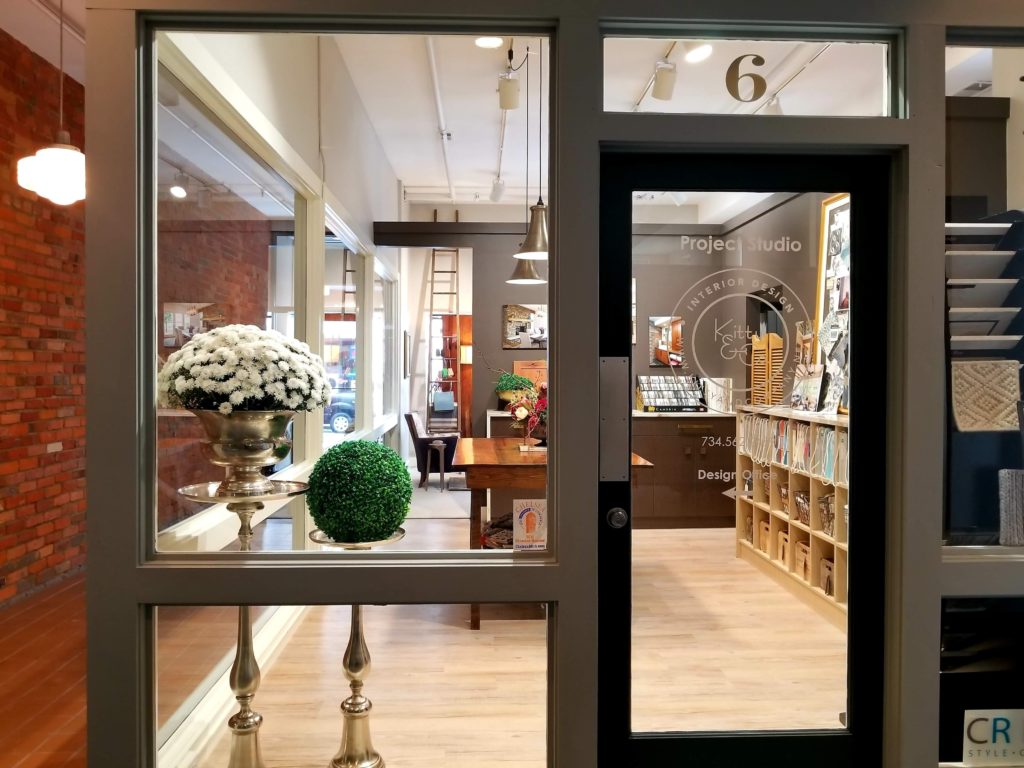 Our project studio now fills the longtime space of "Uptown Antiques," owned by Marge Daniels.  On a  side note, when I first moved to Chelsea, I frequented her store always finding fascinating treasures.  (Probably a topic for another article, as I love history and antiques!) Interestingly enough, I acquired the store's "front desk" upon their closing and it now graces our office.
Six creative window displays represent our work or highlight a featured artist we commission and at other times the front windows of the Sylvan are just meant to be fun and engaging.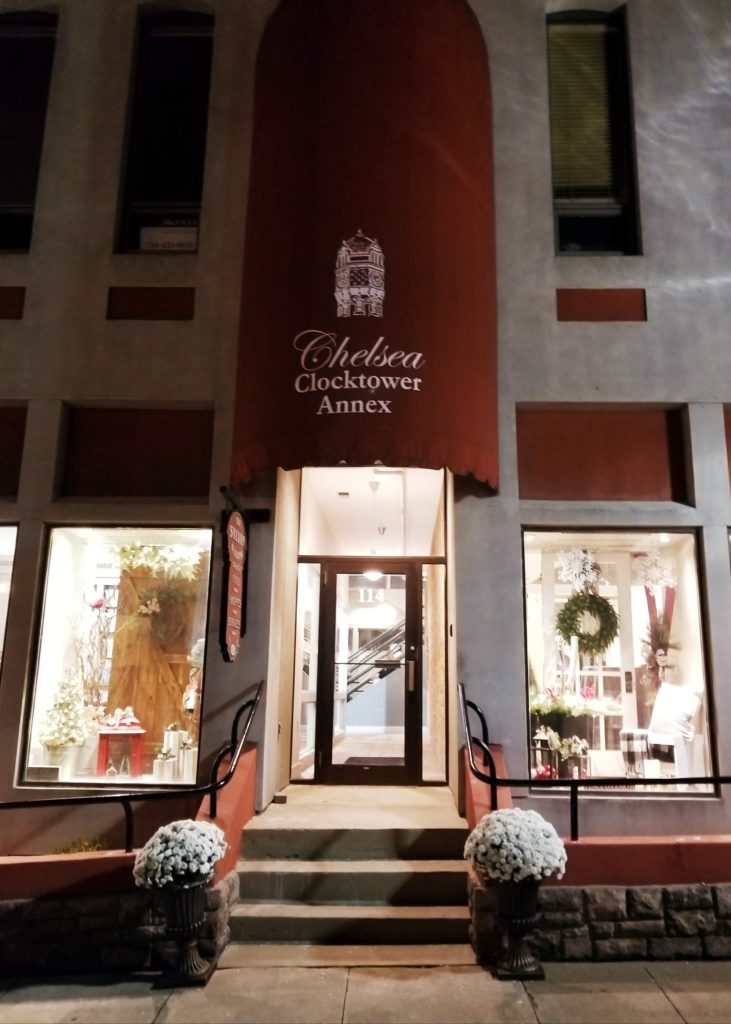 Perhaps our displays have at times left shoppers to wonder…. are we a store?  Our design firm and business model is different than furniture stores offering interior design.  We sell items, but generally not from the floor – Our team collaborates to fashion an exclusive tailored look for our clients.    Almost everything we do from furniture to window treatments to accessories is personalized. Attending the largest furniture and accessory market in the world each year also gives us new insights and inspirations in our designs and offerings, including a host of fabulous sources for unique finds, exceptional fabrics, and furniture lines.
Currently, we are working with our furniture maker to build a leather headboard and ribbon mahogany bed frame with floating nightstands for a  modern family.  The design plans will also "sport" an entire football-themed-space in their home.   The beauty of interior design is that each project is as distinctively different as our clients themselves.  We can never say we have a boring day!
Are we designers or decorators?  We are both!  Interior Design is the art and science of understanding people's behavior to create functional spaces.    Decorating is the furnishing or adorning of a space with beautiful objects.  Kitty & Company designs everything to do with the interior– or even the exterior of your home.  We create plans and elevations to help you visualize the space(s) in which we are working. For a local project, the clients hired us to completely remodel their kitchen.  We removed walls, planned a new kitchen layout and gained a new walk-in pantry from using space more efficiently.  An unexpected bonus!
The decorator shows up in the details,  curating an individual look for each client.  We just finished staging a client's newly purchased 1968 French Colonial home. Like many of us, this particular client had collected and inherited items throughout their lives and had a hard time parting with and deciding what they needed to keep.   They backed a moving truck into the driveway and our team unloaded their furniture, designing and making decisions as we worked, as to what items were correctly placed and what didn't stay (with their approval of course!).  We had the entire main level curated – furniture, rugs, and accessories by the end of the day.
A very common exclamation we hear is,  "I don't know how to pull my space together!"  Working with existing and new items, our team decorated an executive's home for an important work function and recently arranged the furnishings in a 6700 square foot home that was soon to be listed for sale. Staging and accessorizing are the appropriate names for these 1-2  day projects.  It can be a fun and not so expensive way to update and change the look of a tired space, or, prepare your home to sell.
Interior Design has many facets, but it is truly the business of connecting people to their emotions.  We believe your spaces, whether home or office, should elicit feelings of delight and evoke the senses to a simple enjoyment (right use of word??) when living and working in them.  More than half of the body's sense receptors are clustered in the eye, so pleasing the eye is not a bad thing!
Come visit us on "Designers Row!"  Just look for the colorful chairs and lampshades and frames floating in our March window displays!
Also find us online:  kittyandcompany.net
Studio Offices:  734-562-2459